Yes, the mid-winter is rather low light in Finland. Christmas lights are much appreciated bonus to everyday life illumination. As a crafty nation we have created a full scale annual light festival. This week LUX HELSINKI, is being held for the 10th time. Over the years the festival has abundantly shown incredible lighting installation to bring you inspiration until the return of the sun. Click the link below for official program:
https://www.luxhelsinki.fi/en/
The happening is completely free of charge so everybody can join to wonder the curious light art. Installations are all outdoors, so it is paramount to dress up accordingly! There are plenty of restaurants, bars and cafes on the route for warming up, but be advised that they can full – this is a very popular event.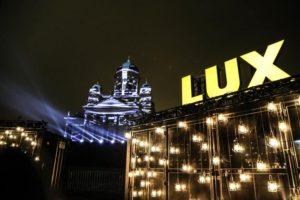 EDITED – 10.1.2018
Today is the last day of Lux Helsinki 2018, so no waiting! The lights are on today until 20:00 then it's until next year. Head down to Esplanade park, next to the Swedish Theater in the center of Helsinki. Out door exhibit starts from there. Follow the signs with LUX in yellow text. Walking through the route takes about 1 to 2 hours depending the pace and about of people on the move. I saw the show yesterday and here are some pictures from along the way. My favorite installations where the lightgarden next to Design Museum and also the main event on the White Cathedral. First is heartrendingly  homely with feeling of childhood magic, latter is  impressive and modern audiovisual display of sound and moving forms. Go to see the art pieces yourself and tell how they make you feel. That's what art, and all the good things are about: Feeling.
Text and the rest of the photos
Jouko Väärälä
Founder of Green Cap Tours