It's told we need to slow down from time to time – just simply enjoying the scent of the flowers growing close to our houses. That sounds great on theory, but never so easy to apply on practice. Especially for those of us who get used to a hectic, super busy way of life, doing everything on high speed.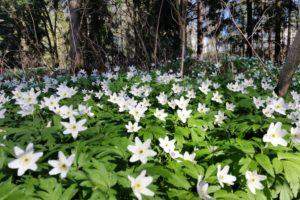 But here we are for you! Finally, when the plentiful Nordic winter has left us and the season has changed for the green one, we, the fans and representatives of this special magical color are happy to bring you to «Finnish forest therapy," which entails basking in the forest's atmosphere as you move slowly, calmly, and mindfully, soaking it in through all five senses while lingering for a few hours. Helsinki has marvelous green pockets of nature hidden all around the city. We are happy to take you to the woods with the easiest and fastest way without leaving the city border. Our excursions can be executed in tight schedule and no gear is necessary.
Join Green Cap Tours walks in the woods as tonic to your body and mind!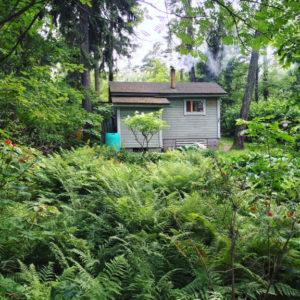 It's not a secret anymore, that forest therapy can boost immunity and lower blood pressure, heart rate and stress hormones as well as increase energy and reduce anxiety, depression and anger.
EVERY FRIDAY, starting from the 12th of May, you are welcome to participate in the newest FOREST WALK tour made by our local guides, which will bring you to the most prestige parts of nature reserves within Helsinki. During the tour, you face the ways how locals spend recreational time in the woods. You will get a chance to pick up some seasonal herbs, berries or mushrooms as well. The tour is the great opportunity to escape from the hectic daily routine and gives you the possibility to stay close to the spirit of the earth! Booking in advance is necessary. Book your experience here! 
Of course, anyone can take a walk in the woods, but the advantage of starting with a guide is to avoid moving too quickly and getting lost. The guide serves walkers in the present and makes sure they get the most out of what the forest is offering them.
FOREST WALK starts from the Herttoniemi Metro Station, located east from central Helsinki. From the meeting point we start walking to Kivinokka area. Along the way, we go through idyllic allotment gardens, summer cottages in the woods – called in Finnish "mökki" and timeless solid forests. You will have a chance to swim in the sea and to have a snack in a cafe along the shoreline. Don't forget to bring you swimwear in case you want to test the waters. The tour finishes at the Herttoniemi Metro Station, from where it starts.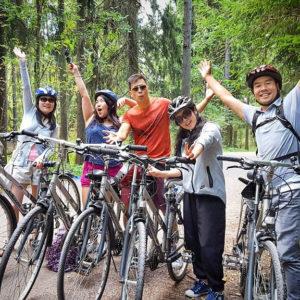 Walking in the green, forested woodlands is one of the best ways to overcome general health problems and above all, reduce loneliness by walking with other people. But what if to try doing it on a bike? Cycling in the woods is a great possibility to experience the intersection of nature and urban life. It will not only help you to slow down and forget about your daily problems, it can help you to come back on shape!
WELCOME TO THE FOREST BIKE TOUR EVERY THURSDAY.
4-hour cycling excursion takes you through Helsinki's Central Park while learning about the different forest types and native flora of Finland. See how Finnish home design incorporates natural elements, how creatively useful plants are used in everyday life. All the basic secrets of Finnish nature will be opened for you. Of course, we will have a stop in a scenic spot to relax and clear our minds from the hustle and bustle of the city with a snack and coffee, inhaling the fresh air and enjoying the verdant scenery.
THE BIKE TOUR AROUND CENTRAL PARK is the greatest destination for cyclists. And now you have a possibility to be a member of our team! Let's have fun enjoying the easy 10km ride along Finnish woodland, coast and mökkis! The route is not difficult, nor does it cover particularly hilly terrain.
Book your tour in advance. During summer season we make public tours EVERY THURSDAY. Private excursions are available with flexible times and dates.
Bikes, helmets and snack with beverages are provided. In case you have you own bike – bring it and get a discount!
After booking a tour on our home page, come to meet your guide with green cap in from of the bike shop 'Stadion Pyörä' at 10 am, located next to the Sonera Football Stadium in Töölö neighborhood in Helsinki. The off-road cycling network and the starting location are accessible by tram and other public transportation. It's very easy and fast hop along and start cycling. Welcome to the Green City of Helsinki!
If you are interested in long distance cycling (more than 20km ride), please contact us with greencaptours@gmail.com
More info about our products you can find on greencaptours.com main page.
Don't forget to thank us here:
https://www.tripadvisor.fi/Attraction_Review-g189934-d10227545-Reviews-Green_Cap_Tours-Helsinki_Uusimaa.html
Tag the photos in INSTAGRAM @greencaptours @helsinkiguidedtours