Enjoy the Best of Helsinki
Walking-, Bicycle- and Private Tours with local guides
UPDATE 8th Sep 2017
We have renewed our booking system. Now we are using Checkfront -platform. Booking a tour with a system requires a purchase with credit card. If not possible, other ways to make the reservation can be inquired by email: sales@greencaptours.com
Please, don't hesitate to contact us in case of technical problem etc. We answer to emails and phonecalls +358 46938 4905, sms will not be answered. Our famed Free Walking Tour dosen't require booking nor advance payment.
PÄIVITYS 8.9.2017
Olemme uusineet varausjärjestelmämme maksuperusteiseksi. Varausjärjestelmä edellyttää kierroksen maksamista luottokortilla. Muita maksutapoja voi tiedustella sähköpostitse osoitteesta sales@greencaptours.com. Olethan meihin yhteydessä mahdollisissa ongelmatapauksissa sähköpostilla tai puhelimitse +358 46938 4905, tekstiviesteihin ei vastata. Tippipohjaiselle Free Walking Tour -kävelykierrokselle ei oteta varauksia tai etukäteismaksuja.
Weekly schedule Winter 2017 / Viikottaiskierrosten aikataulut (until April 30)
Wednesday at 10AM - Free Walking Tour - Quick, unformal and fun way to learn all the basic stuff about the Capital of Finland.
Friday at 4PM - Free Walking Tour - Quick, unformal and fun way to learn all the basic stuff about the Capital of Finland.
Joka toinen lauantai klo 11 - Sisällissota Helsingissä 1918 - Koe aikalaisten tarinat ratkaisutaisteluiden melskeessä. Oppaina Historian maisterimme. 
UUTUUS! klo 14 - Murhakävely - Tule mukaan kuulemaan Helsingin historian hyytävimmistä henkirikoksista
NEW PRODUCT! klo 17 - Murder Walk - Come and hear about the most hideous homicides that has taken place in Helsinki
Joka toinen lauantai klo 12:30 - Mielen huoneet - Opastettu kävelykierros johdattaa Lapinlahden sairaalan ja mielenterveystyön kiehtovaan historiaan. 
Every second Saturday at 2PM - Mental Walk - Guided walking tour on history and human stories of most famous mental asylum in Finland. 
Book your spot! Varaa paikkasi! sales@greencaptours.com or use the reservation system on this website / tai käytä alla olevaa varausjärjestelmää.
We do also private tours / Teemme kierroksia varauksesta myös muina aikoina. 
Free Walking Tour Helsinki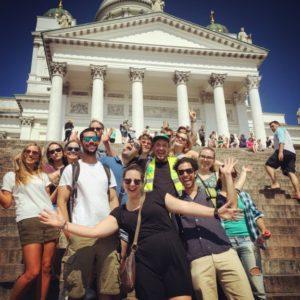 This is a quick, unformal and fun way to learn all the basic stuff about the Capital of Finland. During our tour, you will get a professional introduction to the History and the present of Helsinki from one of our highly educated guides. You will also receive a bunch of hints regarding the Places, Restaurants and Attractions that you should visit during your stay in our Country.
The tour takes place on every Monday, Tuesday, Wednesday, Thursday and Friday (May 2nd to September 17th) starting at 10 AM from the bottom of the main stairs of the White Cathedral in Senaatintori (Hallituskatu 9, Helsinki). Look for your guide with a Green Cap. The White Cathedral is located in the heart of Helsinki. Use Reittiopas the find the best route for you: http://www.reittiopas.fi/en/ 
The duration of the tour is 1,5 – 2 hours. If your group is bigger than 4 persons please send us an email sales@greencaptours.com so we can anticipate the number of people coming to the tour. Otherwise making a reservation is not necessary.
The tour is totally FREE! Tips are appreciated after the Tour but completely voluntary. 
If you want to get deeper than basics, we offer various themed tours and customizable Private Tours.
Welcome to Green Cap Tours! Your local tour guide in Helsinki
We are a Finland-based tour company, which offers a variety of tours suitable for all travellers and budgets. Our local tour guides are knowledgeable, experienced & informative, assuring that experiencing one of our Helsinki guided tours will leave you with an understanding of Finland's rich heritage, history, culture and geography.  Our tour offerings cater to everyone, whether you want to immerse yourself in Helsinki's city center with a walking tour, be enchanted by Finland's natural geography and unspoilt forests with a nature experience, or simply unwind and relax with a pubcrawl in Helsinki.
Visiting Finland for the first time? We can arrange a private tour or custom tour at your request. Our experienced guides will work with you to create a personalized tour that satisfies your interests and insure that you experience all the sights, beauty and nature that Finland has to offer.
Finland is one of Europe's best-kept secrets. Our guides are excited to reveal unique features that only locals know and share their vast knowledge of Helsinki and Finland. Whether you choose to enjoy a bicycle tour or pubcrawl on an endless summer's night or a free walking tour in a winter wonderland during Finland's colder months, our expert guides will be there to assist and inform you whilst making the experience enjoyable, helping you create life-long memories in the deep North.
Latest from the Blog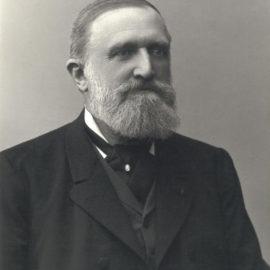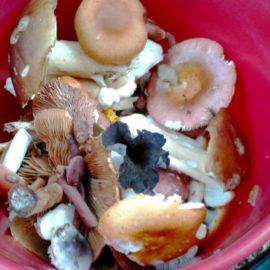 Sienisesonki on parhaimmillaan ja sienet metsässä odottavat kerääjäänsä! Tämä kesä on ollut paikoin hyvin sateinen. Se saattaa harmittaa kesäfiilistä, mutta luonto kukkii ja sienet puskevat maan eri kolkista hämmästyttäen aina vaan pientä kulkijaa.... Read More