Helsinki Free Walking Tour with Green Caps
This is the third year when Green Cap Tours offers Helsinki Free Walking Tour. And the feedback has been truly heartwarming. We must be doing well! As the demand is rising we want to keep serving the travellers the best way possible. To help you experience the best of Helsinki with easy, this summer we offer more Helsinki Free Walking Tours than ever. Welcome to join the Green Cap Free Walk every weekday at 10AM! Sundays and on public holidays we have to rest to keep fit and able to give guys the most entertaining Free Walking Tour in Helsinki.
Send us a message so we know which day you guys are coming: sales@greencaptours.com
This way we can anticipate the group size and provide appropriate amount of guides.
What is Free Walking Tour?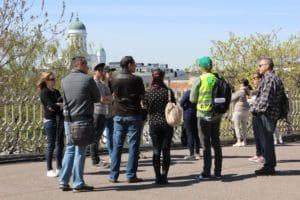 When in need of quick and simple orientation to a new city, Free Walking Tour with a local guide are great. There is no ticket purchase beforehand, you simply come to starting place and at the end of the tour you can leave a tip if you feel the tour was worthy. Tipping is completely voluntary.
Free Helsinki Tour content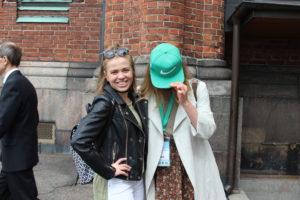 This is a great introduction tour to Helsinki. Especially if you are visiting Helsinki for the first time, this tour is perfect for you. We'll take you through the interesting history of our capital and tell you essentials about the everyday life in Finland. We give you information regarding the places, restaurants and attractions you should visit. On the walking tour led by a local Finn you will get way more personal and in depth guiding than any of the bus tours ever. Helsinki is very walkable city and the distances between sites are short hence walking tours make more sense than sightseeing buses.
Here are some highlights of the Helsinki Free Walking by Green Cap Tours
Senate Square
Helsinki Cathedral
University of Helsinki
Wellfare State functions
Bank of Finland
The Mecca of the Finnish Karaoke Scene
Uspenski Orthodox Cathedral
Presidential Palace
Sauna Centre
Market Square
Epicenter of National Celebration called Vappu
Esplanade Park
The tour is going to take approximately 2 hours.
We will help you build a Helsinki -story to share with your friends! We also do plenty of themed tours and private tours for groups. If you are a bigger group, 10 pax or more, we recommend you a private tour. Check the our full catalogue on https://greencaptours.com/experience/
Helsinki Free Walking Tour – starting place and time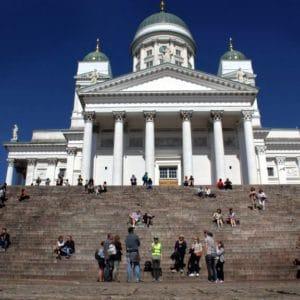 The tour starts from the Senate square, the white cathedral stairs. During summer 2018 (2/May – 30/Sep) every day (apart Sundays and public holidays) at 10AM. Meet your guide with a green cap by the large staircase of the church.
Hallituskatu 9, Helsinki  (address for googlemaps etc.)
Easy way to get there: Take a tram 1,2,4, 7A or 7B and get of at "Senaatintori" -stop.
The tour is tip-based and there is no reservation is needed for individuals though highly recommended. This way we can anticipate the group size and provide appropriate amount of guides.  Please send us a message so we know when you guys are coming: sales@greencaptours.com
If you guys have a group attending (4 or more) we need really need the before notice. This way we can maintain a high quality service by having additional guides if necessary. We don't take bigger groups of 10 pax or more to the free walking tours because this will lead to bloated group sizes.
Please follow and like us: