Civil War in Helsinki 1918 -walking tour
A gruesome civil war took place in Finland back in 1918, when the country was divided to the "Reds" and the "Whites" quickly after the declaration of independence in December 1917. This was the only war that has been fought on the streets of Helsinki. There are still signs of the battles visible throughout the city.
In celebration of the centenary of Finnish independence we offer a walking tour dedicated to show how the war proceeded in the red's capital city – Helsinki. One gets to hear about and see the most important buildings of the spring 1918, experience how the war shaped this country and city as well as be amazed by the faiths of both sides' individuals. Especially the struggle for power when Germans entered the city is emphasized – seeing the spots and hearing about the battles. The "Whites" were supported by Germany and it was the battle tested German troops, which took over Helsinki within 2 days. The tour is available in English by request, contact sales(at)greencaptours.com.
On the first day of April, the biggest Civil War in Helsinki 1918 -themed walking tour was arranged for a group of hundred people. The private walking tour started by dividing the big group to smaller groups for four guides. The weather was not as good as hoped, but the freezing wind and rain did not scare the groups and they showed serious Finnish "sisu" fighting the cold.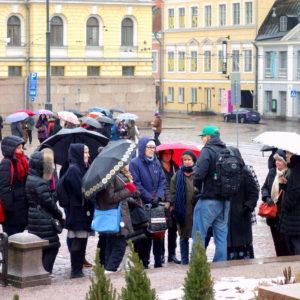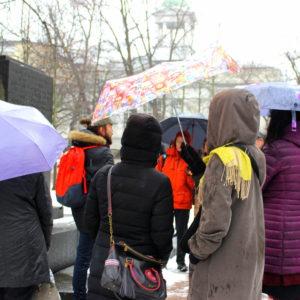 Do you need to figure out something fun and interesting to do for your group?
Contact us – all tours can be arranged privately. In addition to the selection on the website, we have many outlines for different tours that can be altered depending on the group's points of interest.
Email: sales(at)greencaptours.com
Phone: +358 46938 4905
The public Civil War in Helsinki 1918 Walking Tour in Finnish every Saturday in May starting at 11AM from the Mannerheim statue near Kiasma art museum.
Duration 2 hours, price 14€/10€ per person (discounted price for under 18, students and pensioners).
Booking by email sales(at)greencaptours.com or on our website.