Green Cap hints: Finnish Cuisine restaurants
These restaurants offer traditional and also developed traditional Finnish food. This listing includes restaurants of all price ranges.
Cella. Fleminginkatu 15, +358 9 768430, Mon. to Fri. 15-02; Sat. to Sun. 12-02 (kitchen closes 21-45).
An absolute classic with affordable big meals including all the Finnish classics, like meatballs, reindeer with
mashed potatoes and Vorschmack, this is the place to go to if you want to try straight-forward, simple, tasty, no
tricks involved Finnish dishes often called traditional. There's a separate bar as well (the side of the restaurant is
nice and even quite intimate, so works for a semi-romantic evening very well) with a decent beer selection.
Kolmon3n. Kolmas Linja 11. Mon. to Fri. Lunch 10.30-15.30; A la carte 16.30-23. Sat. 12-23., + 358 44
Modern Finnish and Nordic food with decent prizes and more of a feel of dining out just for the sake of it than
the above, this small restaurant with a fresh and young vibe in the district of Kallio is a place for more modern
Finnish food and worth a visit. Good lunch to be had here as well.
Tori, Punavuorenkatu 2, Mon. to Fri. 11-19; Sat. to Sun. 12-19.
Not an exclusively Finnish restaurant, but yet there are some Finnish classics to be tried here at the popular
among young locals block restaurant, like salmon soup, salmon salad and last but not least, the famous
meatballs with brandy sauce. An affordable place, where in terms of the service one gets, it from time to time
might seem like the waiter is hung-over (which, from time to time I'm sure is indeed the case). Also try their
other joint "Alppitori" on Kirstinkatu 15.
Finnjävel, Eteläranta 16, +358 300 472 341. Mon. to Sat. 18-23.30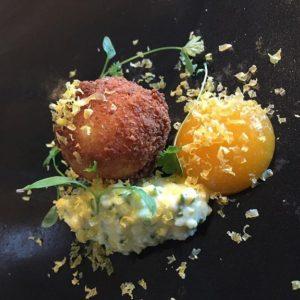 Menus of either 7 dishes (79 e) or 12 dishes (115 e). Definitely the "it" place in terms of current restaurants
specializing in Finnish food, a place for cool fine dining. Exceptional design and with some of the leading chefs
of Finland in charge of the cuisine, the food can be nothing short of spectacular, although have not had the
chance – yet – to taste. Reservations absolutely necessary, check: https://www.finnjavel.fi/?page_id=64.
Ravintola Nokka, Kanavaranta 7 F. Mon. to Tue. 11.30-22; Wed. to Fri. 11.30-23; Sat. 18-24.
A menu of 4 dishes for 66 e, for 6 dishes for 79 e, this is one of the most complimented places to dine in terms of
the appraisal of the critics and thus a safe, but a little pricey of a choice in an exquisitely beautiful setting for
Finnish, comfortable fine-dining. Decent homepages in English. https://www.ravintolanokka.fi/
Saaga, Bulevardi 34, +358 9 7425 5544. Mon. to Sat. 18-23.
In terms of service, atmosphere and food I can well recommend this place, that is also a little on the pricey side
though. Serves food from the north of Finland, Lapland. However, to be recommended over the likes of the
popular among tourists and often recommended Lappi restaurant on Annankatu, which serves good food in a
charming setting and is central, but is steeply overprized.
Written by Leo Aarnio
All locations are on our hint-map. >click here<
Tallenna
Tallenna
Tallenna
Tallenna
Tallenna