Green Cap Hints: Indoor Cafes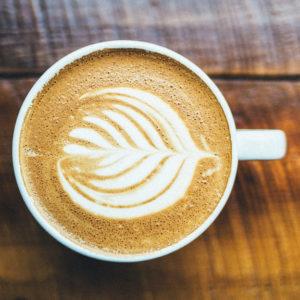 The summer is changing to autumn, but desire for a good coffee always stays. This listing includes indoor cafes to enjoy the that revitalizing liquid in comfort even during the rainstorms.
All the places mentioned here can be found on our famous hint map. Outdoor cafes are marked with light brown and these indoor cafes with dark brown colour.
KULMA – Paulig Cafe, Aleksanterinkatu 9. +358 (0)20 7600 158. Mon-Fri 8:30-20:00, Sat 11-18:00, Sun closed.
A modern and inspiring coffee corner in the heart of Helsinki where one can enjoy freshly roasted, hand-made coffee and delicious delicacies. It is a great spot for meeting friends, colleagues or just for enjoying a cup of coffee by yourself. The cafe has two floors and the atmosphere is with out a doubt very inviting and cozy. At Paulig Kulma, with its versatile spaces, it is also possible to organise unforgettable private parties.
Café Kokko, Kalevankatu 31 A 6. +358 40 544 2926. Mostly 12-18, but check fb or call.
A place for pilgrimage for coffee and raw food lovers, café Kokko is a little difficult to find even with a
map and an address , but I guarantee you will make it, if you try. There is usually a sign in place on the
street, but once you get to Kalevankatu 31 A, walk inside the inner court, and on your right is an entrance
to a staircase (with a small sign that reads "Café Kokko", like it was a person living on the 2nd floor).
You'll find the café on the 2nd floor. Easily worth the hassle – with these pieces of advice you will find a
gem that many unknowing locals walk past everyday.
Johan & Nyström, Kanavaranta 7 C, +358 40 520 3623. Open from late morning until 17, check fb.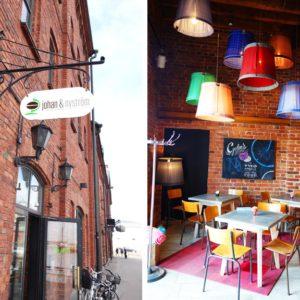 One of the places responsible for starting the hipster coffee craze (we are the biggest coffee drinkers in
the world, but in the past, mostly after quantity rather than quality) in Helsinki a few years back, Johan
& Nyström is one of the central players in the newly established coffee scene among the Helsinki youth.
CI3 Bear Park café, Agricolankatu 13, 7 or 8 – 18 or 19, depending on the day. Check:
https://www.kulmakahvio.fi/.
Nice atmosphere, good service, delicious delicacies… also outdoors in the park, see CO 9 above.
Café Daja, Mariankatu 13 b, +358 41 700 1769. Monday to Friday 8-18, Sat. to Sun. 9-18.
A cosy café with AMAZING German delicacies. Try the German pizza Flammkuchen, also one of the best
places for breakfast.
Café Hima, Siltavuorenranta 16, 11-19 everyday.
Yoga, raw delicacies, coffee… I think you can infer the vibe here. This place is called Hima as in "home"
in Helsinki slang, and certainly feels like it (even though I don't do yoga or raw-cooking).
Café Kuppi ja Muffini, Kalevankatu 17. Mon. to Fri. 7.30-18, Sat. 10-16. +358 44 02 02 130.
"Endearing" or "cute" are the words that best describe this small cafe in the center of town specializing in
none other than cupcakes. Other stuff good to be found as well.
Kahvila Suvanto, Suvannontie 18. Closed on Mondays, Tue to Fri 8-17. Sat. 10-17. Sun. 10-16.
This place is as nice as its surroundings: my favorite residential area in Helsinki, Puu-Vallila, a small
wooden-part of town in the center of Helsinki with a hippy and welcoming "next-door" type of an
atmosphere. Try the traditional Finnish porridge, that has somehow become extremely trendy, for
breakfast.
Café Pequeno, Vaasankatu 11. Check fb or call +358 45 159 4995 for opening hours (usually open).
Situated in one of the best places in town, Vaasankatu, this café is very welcoming, busy and social, with
an Argentino-Spanish twist (the roots of the owner). Also a barber .
Mad Possum, Vironkatu 11. Tue. to Sat. 10-18.
Tiny cafeteria with some attitude.
Frangipani café and bakery, Maneesikatu 1-3, Tue. to Fri. 10-18.; Sat. 10-15; Sun. 11-17.
A lovely café with delicious and fresh products from the local bakery.
Kahvila Siili, Ilmattarentie 8 c. Opens again on 30.5. Check fb for hours.
I promise this to be one of the most sympathetic and yet unforgettable cafes you're likely to ever visit.
Check out on fb to rest assured (opens again late May 2016).
Kahvila Sävy, Aleksis Kiven katu 12, Mon. to Thu. 7-18.; Fri. 7.30-17; Sat. 10-16; Sun. 11-15.
Extremely kind service and everything delicious with reasonable prizes as well. Nice neighborhood,
chilled out atmosphere and good brunch AND breakfast (it's a rarity you get to choose).
El Fant, Katariinankatu 3, open from early until late, check fb for details or call +358 44 236 9953.
A cafeteria just opened in the heart of the historical city center that is serious about coffee, with the
barista of the year 2016 sure to fix you a tasty cup. A nice terrace to be found also. In the evenings tapas
and wine (perhaps you can also find the secret bar, "Trillby and Chadwick", next door?).
Mood Coffee Roastery, Tarkk'ampujankatu 4, Mon to Friday 8-16, Sat. 10-16.
An elegant coffee shop of the local roasting factory.
Good Life Coffee, Kolmas linja 17, Mon. to Fri. 8.30-18; Sat. 10-17.
No bs type of a place of the local roasting factory: born a classic.
Café Ekberg, Bulevardi 9. Mon. to Fri. 7.30-19; Sat. 8.30-17; Sun. 9-17.
Since 1852, this is the oldest café in town and is still going strong. A chic place with some of the best
bakery products of the city if not the country, including Finnish classics like "Runebergin torttu".
Cafe Kappeli, Eteläesplanadi 1, Open everyday 10-24.
A beautiful place at a central location, together with Ekberg one of the most classic cafeterias in the city.
If on Esplanade, also try Strindberg and Café Esplanade.
Written by Leo Aarnio
Introduction and minor edits for blog by Jouko Väärälä
Tallenna