Tips for Valentine's Day in Helsinki
In Finland, Valentine's Day is called 'Ystävänpäivä' which translates to 'Friend's Day' – so whether you are spending the day of love with your special someone, group of friends or family, you will find a way to celebrate it here in Helsinki.
Here's few of our tips for Valentine's day in this buzzing city!
Go ice skating – There's tons of public, free ice skating rinks around Helsinki and now is the best time to try this relaxed activity or possibly refresh happy childhood memories. You can find the closest rink to you from here. If you don't own a pair of skates, head to the most famous skating rink Ice Park right in the heart of the city, next to the Central Railway Station. The Valentine's Day evening is for having fun together! Check out the pricing and additional info here.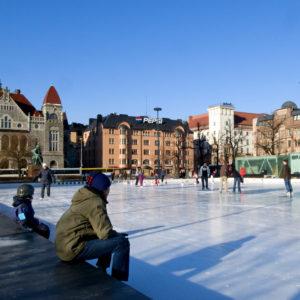 Immerse yourself in Finnish live music – 'The National Gig-Day' gathers music lovers to bars around Finland for Valentine's Day live music. There is no entrance fee for these gigs (just pay for the cloakroom)! On the Rocks brings back legendary rock with guest artists Diandra and Anssi Kela. At Bar Loose you can listen to true locals from Mute Contour and enjoy the modern assembly Four-Bar System.
Tasty dinner at home or a lovely surprise for someone special – If you were not able to book a table in your favorite restaurant for this special occasion, you can order a dinner to the comfort of your own home. Try Foodora or Wolt, that has two special Valentine's dinner options in addition to the wide selection of restaurants they normally deliver from. Maybe you want to surprise someone with a traditional gift, but an untraditional way? Wolt has you covered. This Valentine's Day you can order flowers and delicious Finnish chocolate delivered to your special someone's door. More information here.
Have a stroll around – Walk on a crisp, sunny winter day in the beautiful scenery of Helsinki, what could be better? Esplanade park is gorgeous no matter the weather, and is surrounded by interesting architecture. And if you get cold, grab a warming coffee from some of the many charming cafes nearby or try one from our recommended list.