Vappu in Finland – What is it?
After a long winter, the rays of sunshine start to lure the Finns out of their caves. The winter has been survived! The climax of spring is Vappu, which marks the beginning of summer. Celebrations start on May Day Eve on the 30th of April and continue to the 1st of May.
History behind Vappu
The Finnish name for May Day, "Vappu", originates from Catholic St. Walpurgis, whose commemoration day was celebrated on the 1st of May. The first May Day festivities in Finland started in upper-class families in the 1700's. At that time people celebrated the day by going horse riding enjoying the greenery of spring, and held parties drinking mead, sima in Finnish, at home together with friends and family.
Later Vappu became the celebration of the workers – Labour day. In 1970s, when the left wing political parties was very popular in Finland, there were thousands of people attending red flag waving parades organized in major Cities of Finland. Nowadays the political climate is very different and the most visible group of celebrants are the students. Vappu symbols the end of the school year and graduation but most importantly it's a massive party. When you hit the streets during Vappu, it will be impossible to miss the groups of loud and happy students wearing colorful overalls full of different patches, drink in their hand and a white student cap on their heads.
Vappu Delicacies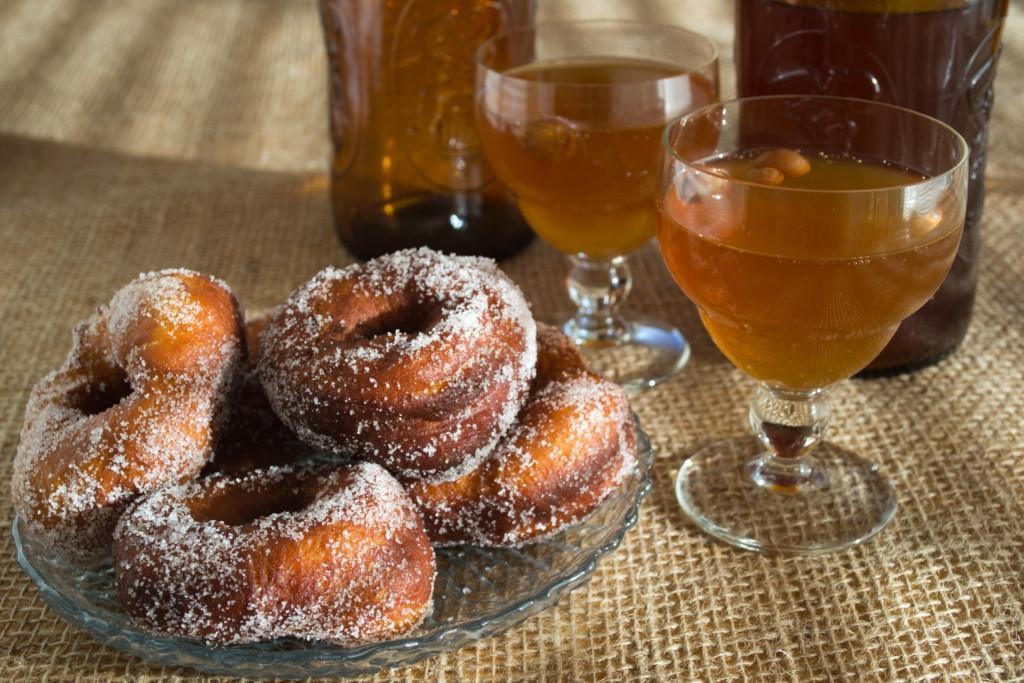 So, what exaxctly is this sima? First of all, the Finnish word sima is an old name for honey. However, nowadays the word refers to a kind of low level alcoholic, sweet, sparkling beverage. Traditionally, it is a form of mead, which is produced by fermenting some honey or sugar, water and lemon. Sima has been made in upper-class homes as a festive drink already since the 18th century but become more of a delicacy to be offered during May Day celebrations only in the late 19th century.
Certain pastries are also enjoyed during May Day. Funnel cake or, tippaleipä (literally "drip bread") in Finnish, is a traditional delicacy that Finns eat during May Day. The name itself refers to how it is made, which is by literally dripping cake batter into hot oil through a funnel and then topping it off with some powdered sugar. Just like sima, Funnel cakes have been made as festive pastries in Finnish upper-class homes since the 18th century but they become an official May Day treat in the 19th century.
Additionally sugary doughnuts or, munkki in Finnish, is a traditional Finnish May Day delicacy. It's origin, however, is more unclear. However, it doughnuts are said to have been a treat served during festivities in Finland already in the middle ages.
Vappu in Helsinki
Celebrations begin on May Day Eve. In Helsinki the statue "Havis Amanda", which lies near the Helsinki Market Square, receives her white student's cap at six o'clock, at the same time as people put their caps on.
Havis Amanda
Do you know the story behind the Havis Amanda and why she receives a cap during Vappu celebrations?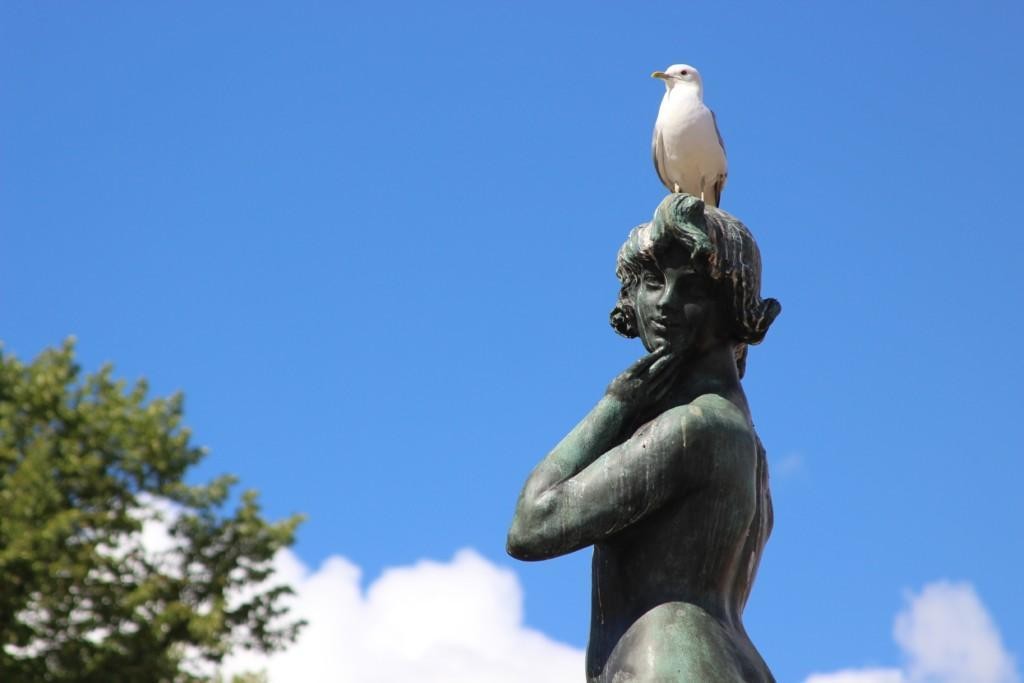 When Havis Amanda was set up for display in Helsinki's Market Square in 1908, it immediately caused a stir and became a source of public controversy, due to its nudity. However, since then it has become one of Helsinki's most loved public statues, and a symbol of Helsinki Maritime city.
Every May Day eve Havis Amanda becomes the center of attention. During The Manta Student Cap Ceremony, a graduation cap is placed on her head. It is claimed that Havis Amanda was already given a cap in 1909. This was done illegally and most likely, spontaneously. In the 1920's the capping became a more of a tradition, as the statue's creator Ville Vallgren rejoiced that his "daughter" had matriculated. By 1951 the police gave approval to the capping, and to this day, Havis gets her cap every May Day eve at 6 p.m.
Similar ceremonies take place in cities all around Finland, with different statues being "capped".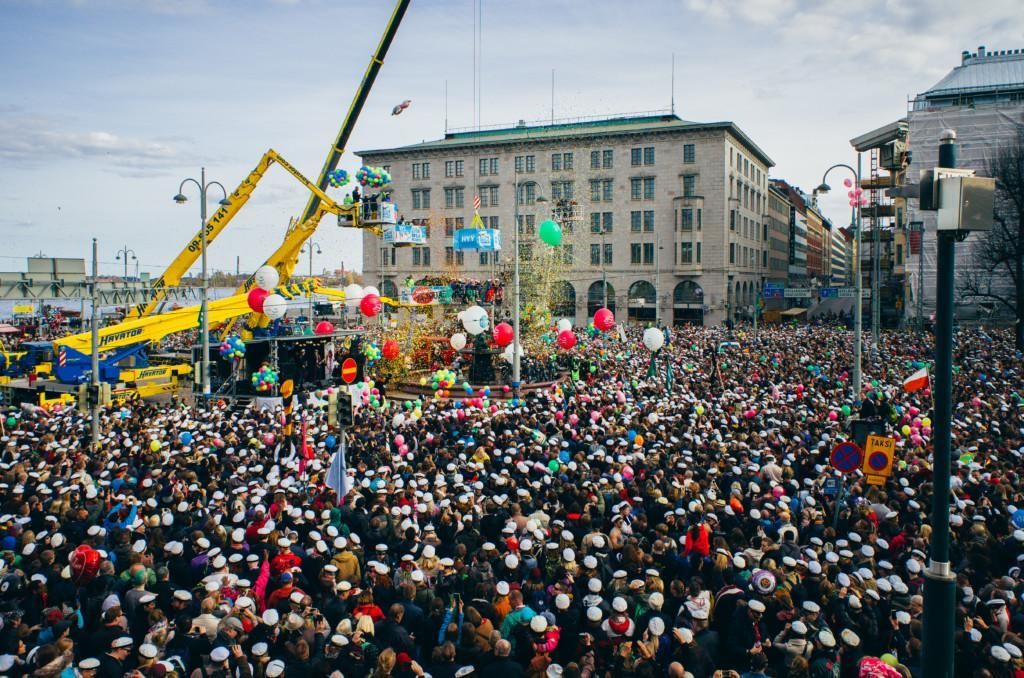 The Vappu Picnic
The inseparable part of the celebration is the Kaivopuisto picnic. For most, the picnic is considered as the hangover or after party picnic. Parks in Southern Helsinki will be packed with people desperately hoping for sunny skies. No matter the weather, Vappu will be the time of the year when you will see the most people celebrating outside.
Vappu 2023 in Helsinki
For more information on different Vappu events on My Helsinki -page.
What is next?
After Vappu celebrations, there's Juhannus! Read about Midsummer traditions here.